This is kinda outside what I normally write about but I am fascinated with numbers and statistics, so I figured providing a round-up review of my fuel costs may shed some light on performance and be helpful to someone. Or perhaps just be a fun thing to talk about.
---
The Basics
Below are a few screen captures from the app that I use, Fuelio. I use this app to record all my fill-ups and most service fees. Please note that this does not include insurance as a cost.
Please also note that I'm running 33 inch tires, a rack with a RTT (roof top tent), front bumper with winch, and typically weight in at 6900 lbs fully loaded with camping gear (add 190 lbs to include me).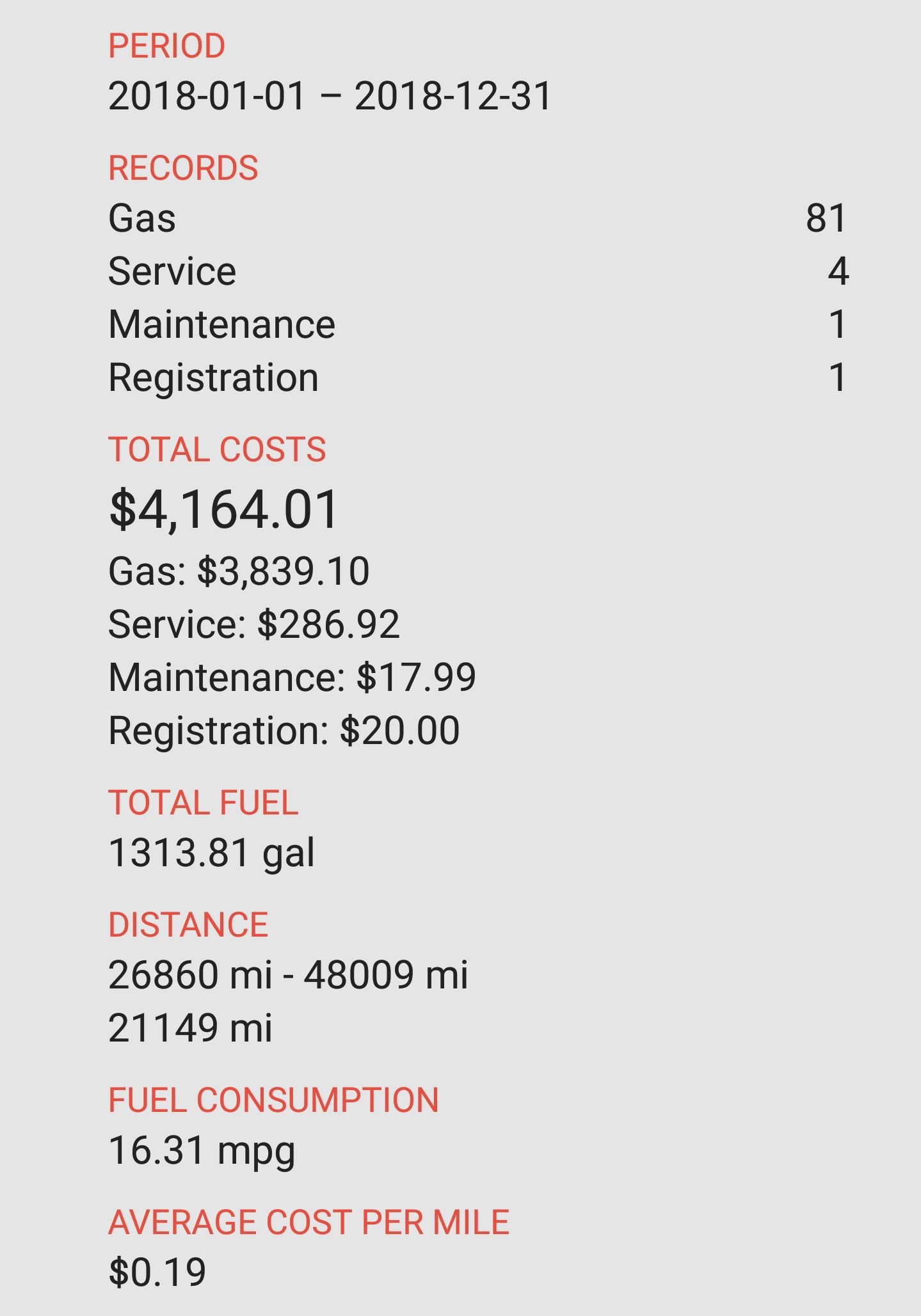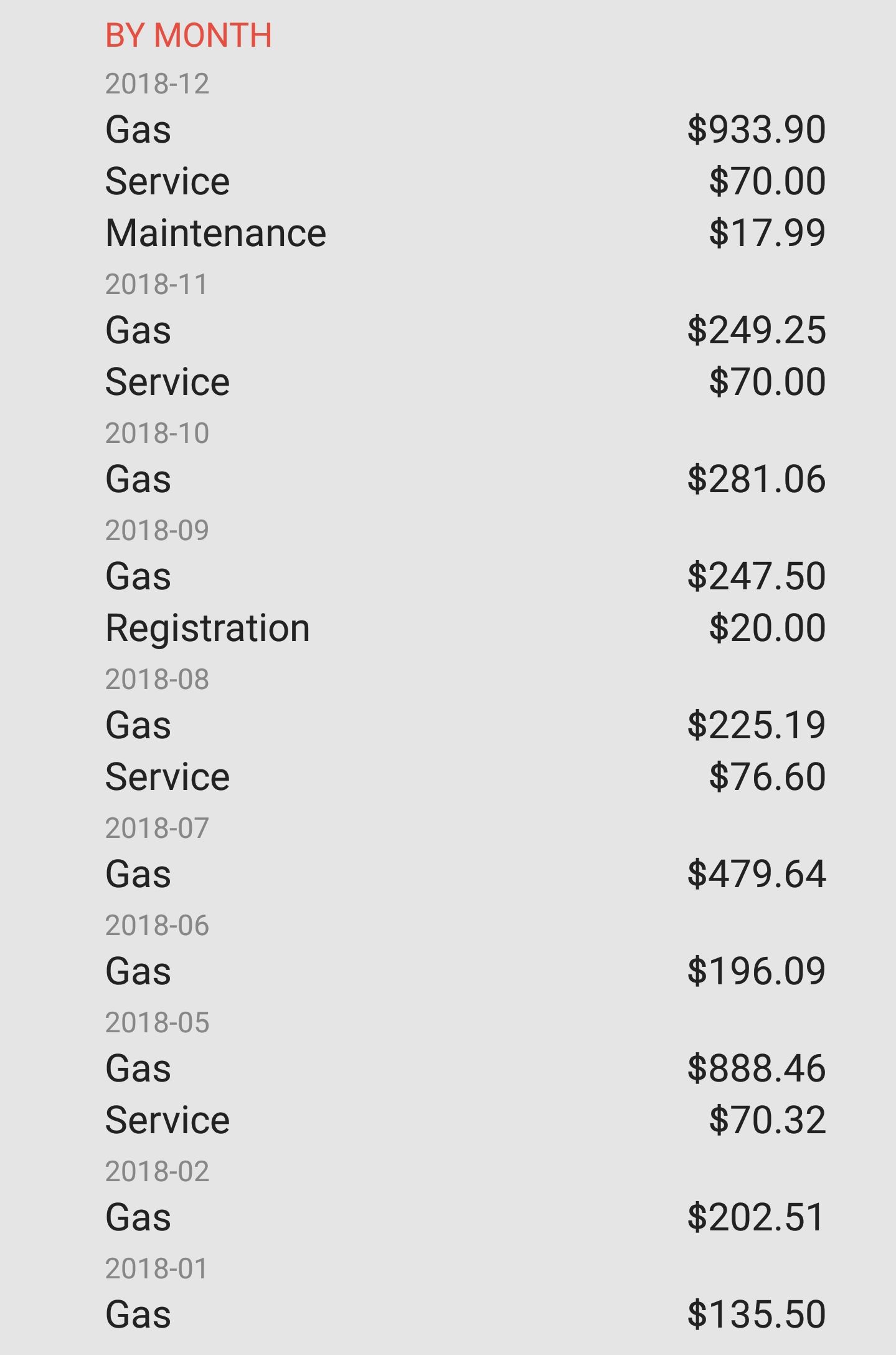 You can clearly see several out of normal leap in fuel purchases. Let's talk about those for a second.
January + February: Normal daily driving to/from work, in and around mileage.
March + April: Out of country, work related, no costs incurred.
May: Travel from Georgia to Arizona for Overland Expo West 2018
June: Normal daily driving to/from work, in and around mileage.
July: Some extra weekend trips to North Georgia / Camping
August + September + October + November: Normal daily driving to/from work, in and around mileage.
December: Drove from Georgia to Arizona to see family + out to Imperial Sand Dunes in California + an additional weekend camping trip back in GA.
That is a lot of mileage put onto the truck the last year! You can see the dramatic increase in costs for cross-country travel. Let's take a look at the overall gas price and MPG for 2018.
Averages First!
Average Fill-up: 16.27 gallons
Average Fill-up Cost: $46.55
Average Cost Per Mile: $0.167
Average Daily Cost: $9.84
Average Monthly Cost: $299.42
Average Mileage Per Day: 58/mi
Average Mileage Per Month: 1,674/mi
Average Fuel Consumption: 17.18mpg
Other Fuel Consumption Costs!
Best Fuel Consumption: 25.21mpg
Best Fuel Price: $2.459 per gal
Worst Fuel Consumption: 13.38mpg
Worst Fuel Price: $3.429 per gal
Highest Fill-up Bill: $67.00
Lowest Fill-up Bill: 15.50
Best Cost Per Mile: $0.098/mi
Worst Cost Per Mile: $0.226/mi
Gallons By Month
Here is a list of total fuel consumed each month (in gallons):
January: 51.48
February: 74.6
March: 0.0
April: 0.0
May: 290.18
June: 66.47
July: 156.8
August: 79.93
September: 87.13
October: 96.31
November: 86.05
December: 324.86
Conclusion
I hope that you enjoyed looking at some numbers with me. I always find it interesting to see just where your money goes and how much it costs to do something. Very little do we think of driving around as having a cost other than having to fill up once a week. To say it costs on average $0.167 cents a mile and you drive to work 5 miles away, well that's $1.67 just to drive to and from work every day. Food for thought!