2019 was a roller coaster of a year for me. Originally I had planned to do "Expedition Alaska" in the spring of 2019. This was overshadowed by a extremely bold expedition that a few guys I had been wheeling with had been planning. That adventure sadly never came to fruition. Since I had already requested my days off of work to accommodate that trip, I chose to travel "solo" around America. By this time in the year I was craving the much needed break for work and my adventurous side was getting restless. My time off was already approved by management, so why not... there's plenty here in the U.S. of A to explore.
Part I covers the following sections of Expedition America 2019:
Georgia to Arizona Drive
Joshua Tree National Park
Grand Canyon National Park
---
Planning
Since this was a rather last minute change of plans (the original expedition was canceled around a month prior to departure), I figured I'd travel out west. Plenty of people had told me about the wonders of Utah and the magical mountains of Colorado. So with these two states on the top of my list, I devised my plan.
Luckily for me, a couple friends where interested in meeting up during the expedition. Chris who I met in Joshua Tree National Park after a few days with my family, Brian who drove out in the middle of September from Georgia to meet me in Colorado. I also had a couple of great friends living in Denver. They gave tips and pointers of the areas around Colorado. One of which I was practically his roommate for a week... or two... not that me being a couch surfer is now a running joke inside our circle.....
---
The Westward Drive
Given that I didn't want to spend an entire week driving from Georgia to Arizona, this portion of the trip was expedited, significantly. I briefly mentioned how I planned for trips like this, in "Tips for Planning Overland Adventures" article I wrote not too long ago.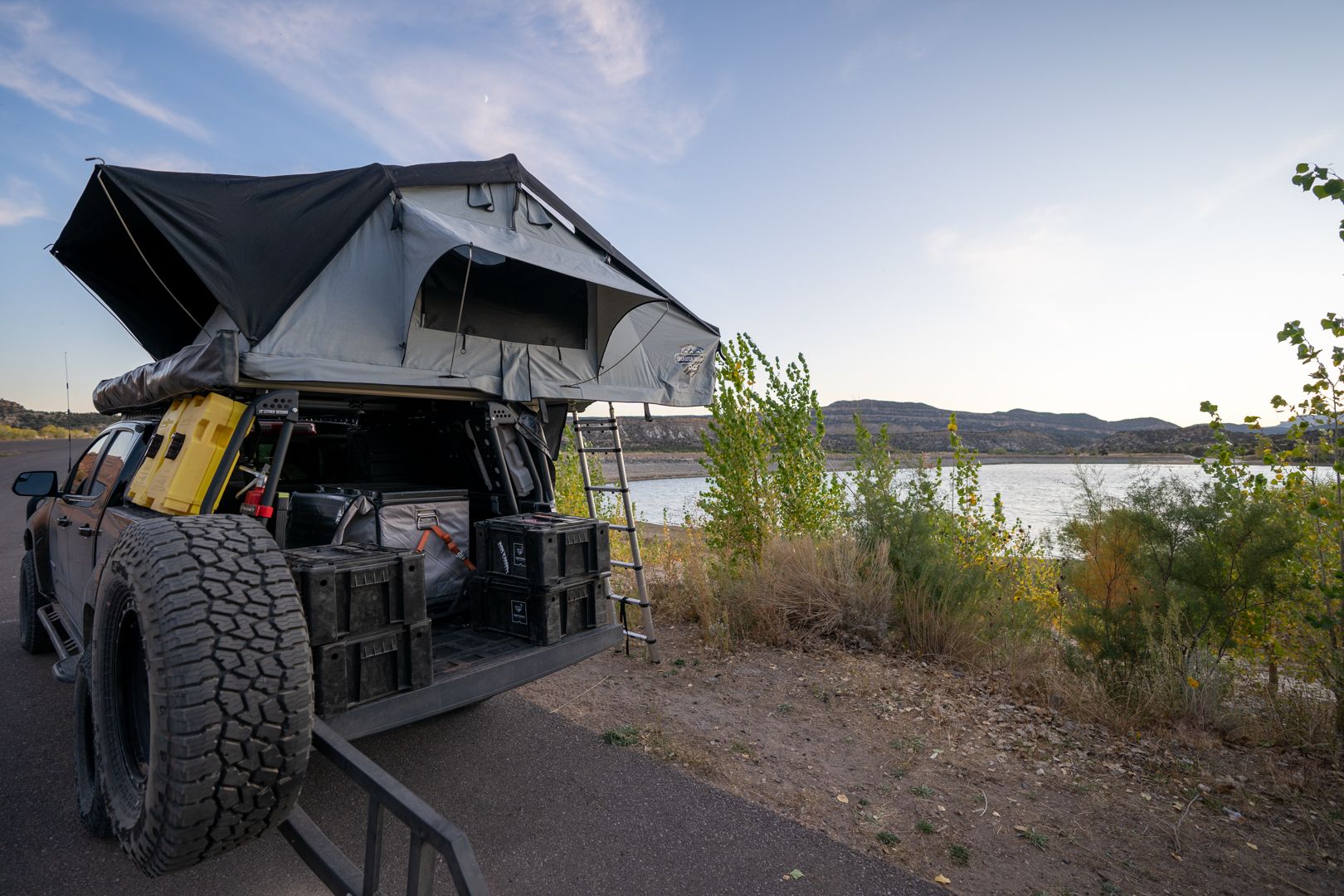 I want to cover the two small campgrounds that I stayed at during this portion of the trip. These campsites work fantastically for driving 8-10 hours a day. The first is slightly longer at 10.5 or 11 hours but I'd like to push the first day a little more.
---
Beaver Dam Campground, Minden, LA
Often times I depart Georgia on a Monday or the middle of the week. I've never had a problem finding free sites at either park. There is a pay on site fee box that you can use, as well as reservations online. If you're nervous about arriving on the weekend or a Friday night, be sure to check out the reservations website. Each site has power and water hookups.
---
Monahans Sandhills State Park, Monahans, Texas
Monahans Sandhills is a little hidden gem. It's located right off the highway, so the convenience factor is 10/10. The campsites are far enough off the road and the sand hills block some of the noise, but normally after dark the noise from the interstate dies down rather quickly. This state park offers a few different sites, all of which have electric and water. I believe all of them have a table and a pavilion thing for shade as well. It is pretty cool to take a stroll on top of the rolling sand hills.
---
Joshua Tree National Park
The first official stop for the Expedition. I drove out from my families place and met up with Chris. Chris and I had originally met during Overland Expo West 2018, along with a handful of other great guys that we still talk too. We do all happen to drive a Chevy Colorado, but that's neither here nor there...
I should have written this down, but I believe we stayed at the "Hidden Valley Campground" the two nights we where in JTNP. We didn't do reservations online and this was one of the only campsite with walk-ins allowed. Luckily for us, even for the end of August, the park was not at capacity.
Joshua Tree is really an amazing park. I feel like it is overshadowed by a lot of other national parks. For the avid Overlander, there's not to much to do, but it is one of the few parks to have a dirt, 4x4 feeling, road. This road, called "Geology Tour Road", is a dirt road that takes you in a small loop around Pleasant Valley.

Geology Tour Road also connects to "Berdoo Canyon Road" which is 11.5 miles long and will lead in and out of the park. The NPS lists this road as a 4x4 high clearance required road, so if you're interested in an adventure out the southwest side of the park give it a try.
Note: We did not do "Berdoo Canyon Road", we only did the loop around Pleasant Valley.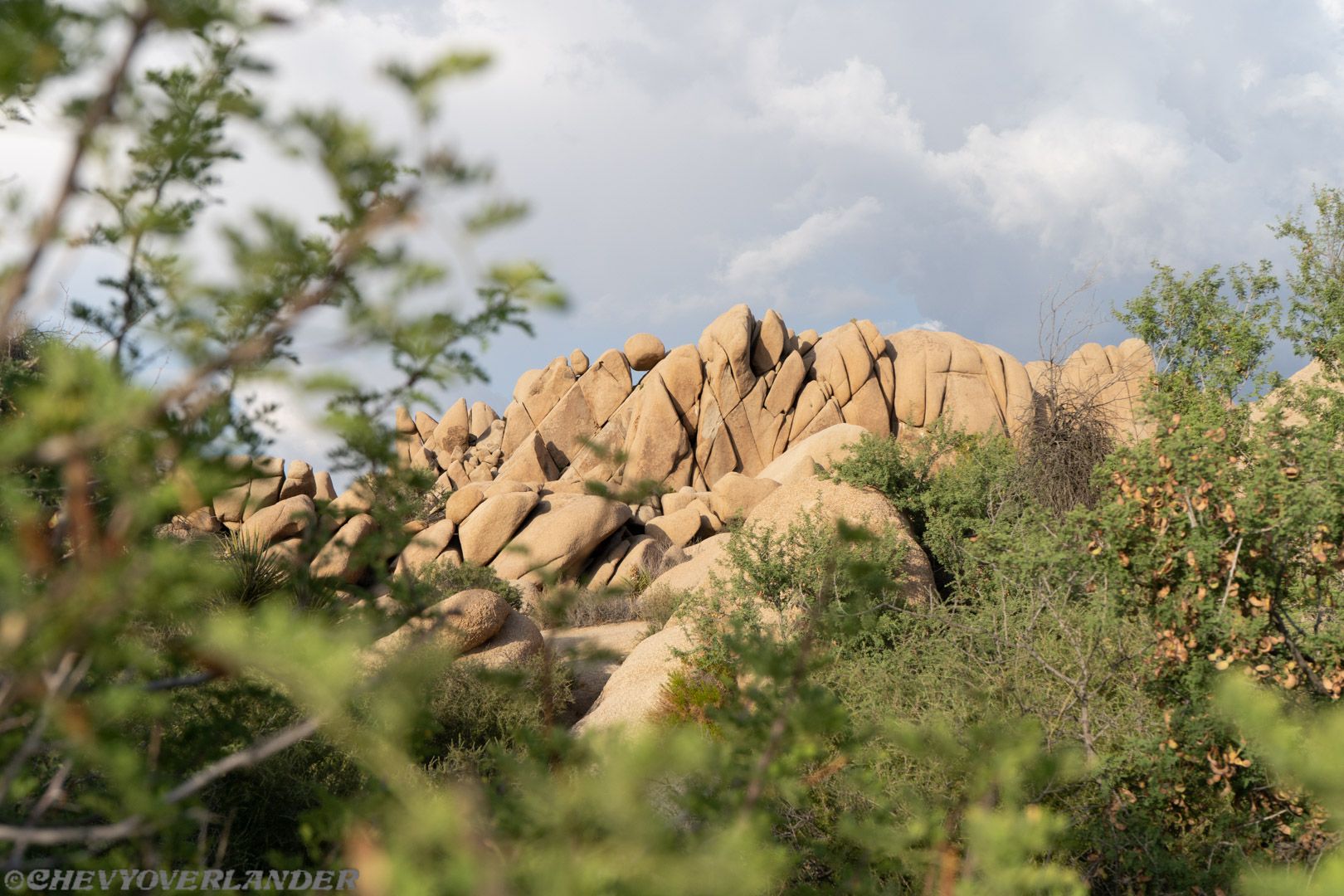 JTNP also boasts over 8000 rock climbing routes and over 2000 bouldering routes. At night the skies over the park give way to amazing astrophotography opportunities and hell, honestly its just nice to be able to look up and be amazed, even if you don't have a fancy camera.
The park boasts something for almost everyone (OHV's aside), but they do allow horses and many activities. If you're in the area or looking for a different national park experience, add Joshua Tree NP to your list.
---
Grand Canyon National Park
If you've never been to one of the most spectacular naturally made wonders of the world, you should definitely add this to your list. A marvel in and of it's self, packed with activities for all ages, and accommodations for the same. If you desire a clean bed and hot showers, stay in one of the park hotels on site. Or if you prefer to "rough it out" the campgrounds on site are close to the action as well. Mather Campground has a small general store, laundry, and pay showers for campers staying at the campground. So it's an attractive place to stay, experience the park, and if you're on a long term adventure it gives the opportunities to clean up.
While we did not experience the North Rim, I've been told that it offers more of the dispersed and less crowded camping areas than that of the very touristy South Rim.
Chris and I did stay at Mather Campground on the South Rim. Neither of us had experienced the touristy activities of GCNP before, so it was refreshing to not really have to think about things to do or driving the next day. I will say I'm not much for touristy things but it is a nice break in the action every now and again.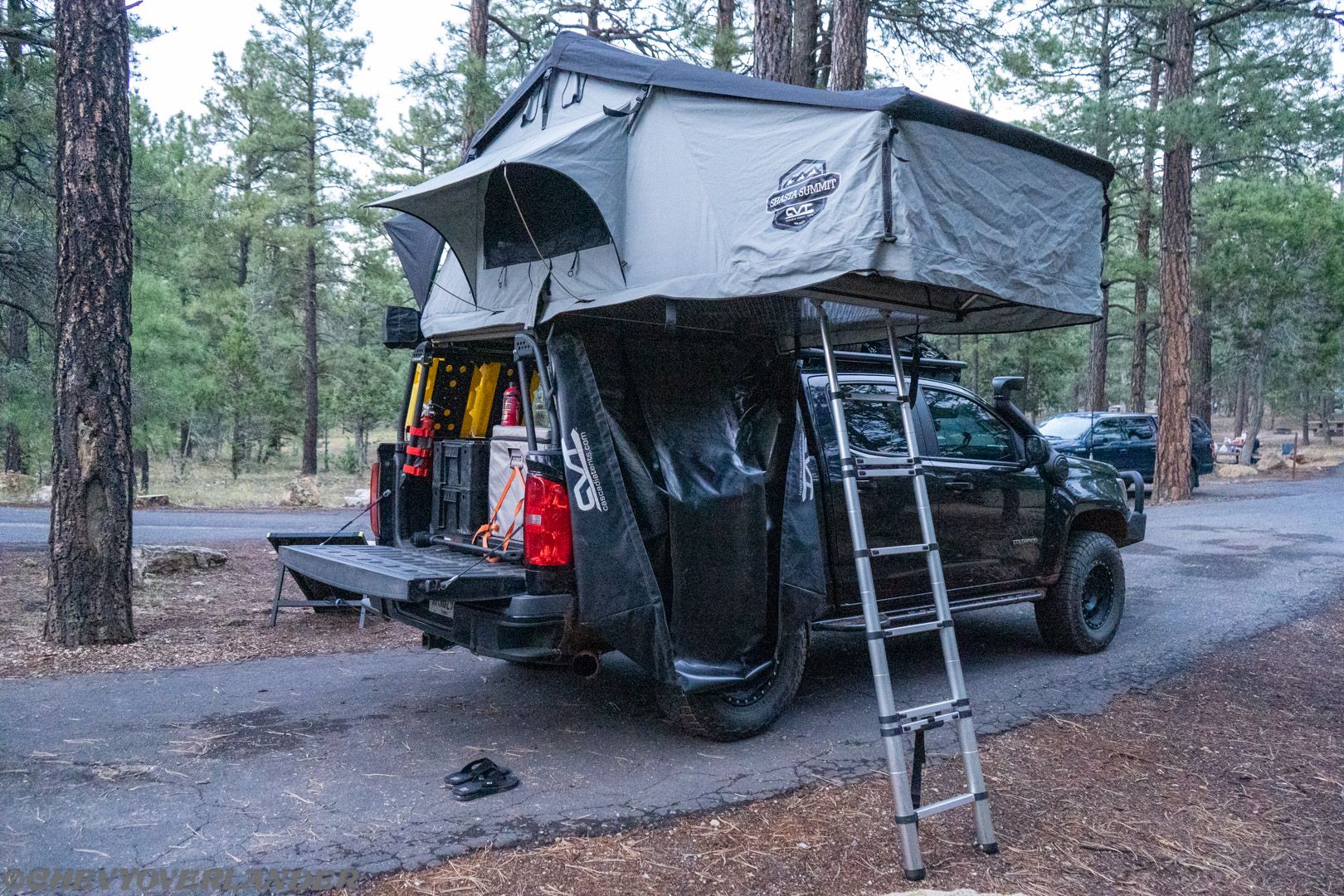 Chris and I arrived pretty late in the day our first night. After setting camp we decided to gaze into the night sky over the canyon. Park shuttles run pretty late, late enough to capture some great dusk and dark evening shots. We took the shuttle up the the visitor center, which leads right out the the Rim Trail and a couple overlooks which make great platforms to shoot the sky from at night. There where a few other night star seekers our with us and everyone was very accommodating, ensuring all the photographers had a place to shoot from if they desired.

I set up my camera and gear, and captured several dozen photos. These are my top favorite night sky photos, which I've done basic editing on but nothing crazy. They where all shot after dusk, around 10 P.M.  local time.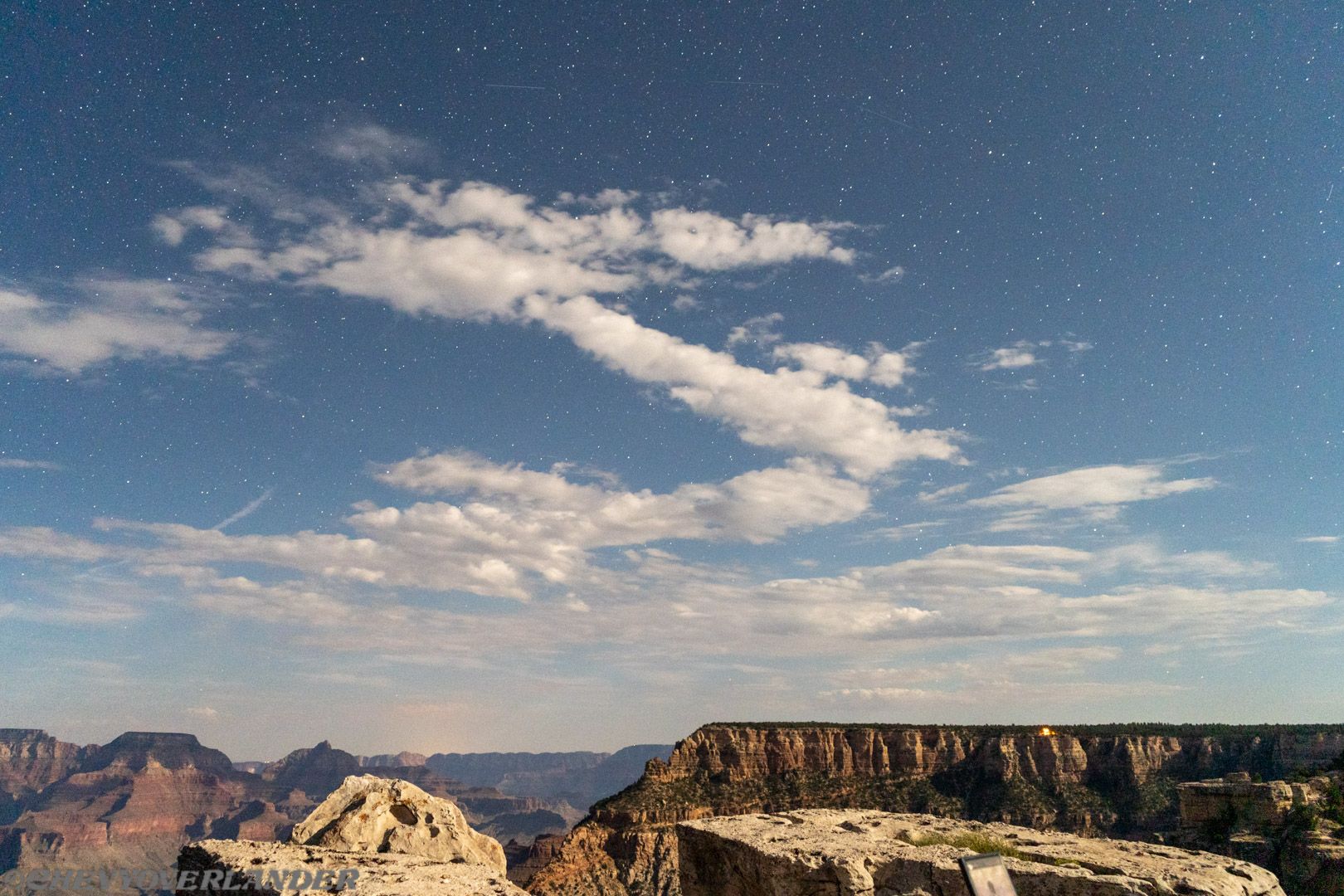 ---
The next morning we caught the park shuttle to the visitor center again. Then a swap over to the yellow line shuttle to the "South Kaibab Trailhead". This started our  5.5 mile hike on the "Rim Trail".  This "trail" is highly maintained and is probably the most popular train in the park. The trail is paved, with safety railings on some of the more dangerous parts of the canyon, don't be fooled however, it's still relatively easy to approach the side and get a glance of the cliffs you're walking on top of. Make no mistake, you wont be one with nature on this trail, as it is the main pathway for a majority of the parks visitors to see the canyon and it also passes along the major visitor centers as well as the on site hotels and restaurants.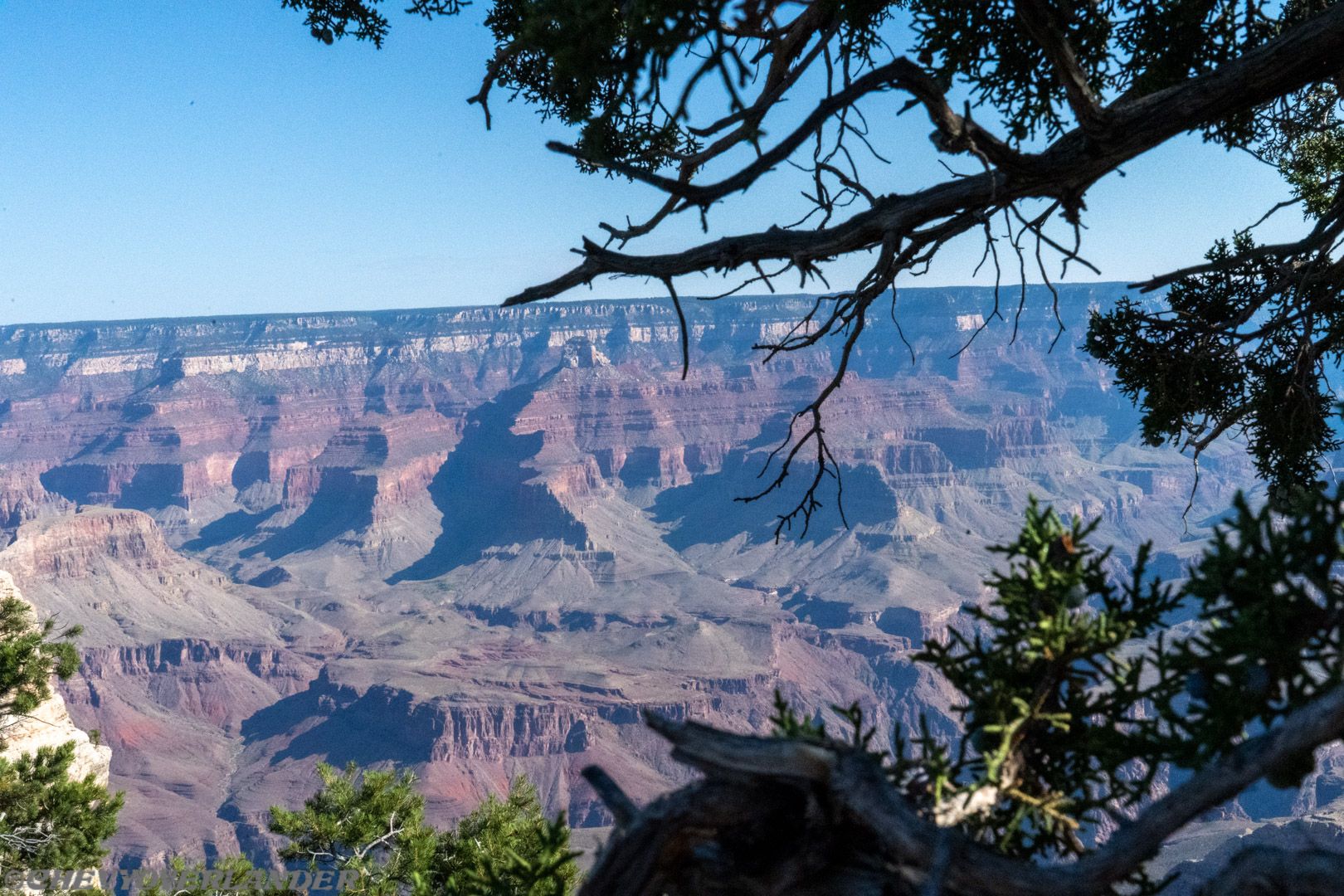 The "Rim Trail" eventually wraps around several of the canyons features and you'll come across points on the trail. Either small markers with interesting facts or more established areas with water spouts or perhaps food for sale.
Eventually you'll pass by Verkamp's, which has restrooms, water, and information. This also signifies you're about to enter the Grand Canyon Village. You'll know by the number of buildings that appear on the left of the trail. Not much further past this you'll hike to "Bright Angle", which marks the start of the "Bright Angle Trail" that descends into the canyon below, and there's also a nice ice cream shop as well.
It was about noon by the time we made it to this point, not that the "Rim Trail" takes a long time, we had just stopped to soak in the majestic sights, so it took a little longer than if you just walked it straight through. Chris and I decided to hike the "Bright Angle Trail" down to the 1.5 Mile Rest House, which many signs and park rangers stated this was about a 2-4 hour round-trip from the trailhead.
We began our descent into the canyon along a nicely maintained trail as well, the "Bright Angle Trail" is not paved, but the NPS takes good care of it since it is one of the main routes for hikers into the canyon. Also along the route you may encounter a mule train, these mules haul supplies and materials into the canyon for various projects. There's also 2 tunnels along the trail, craved out long ago.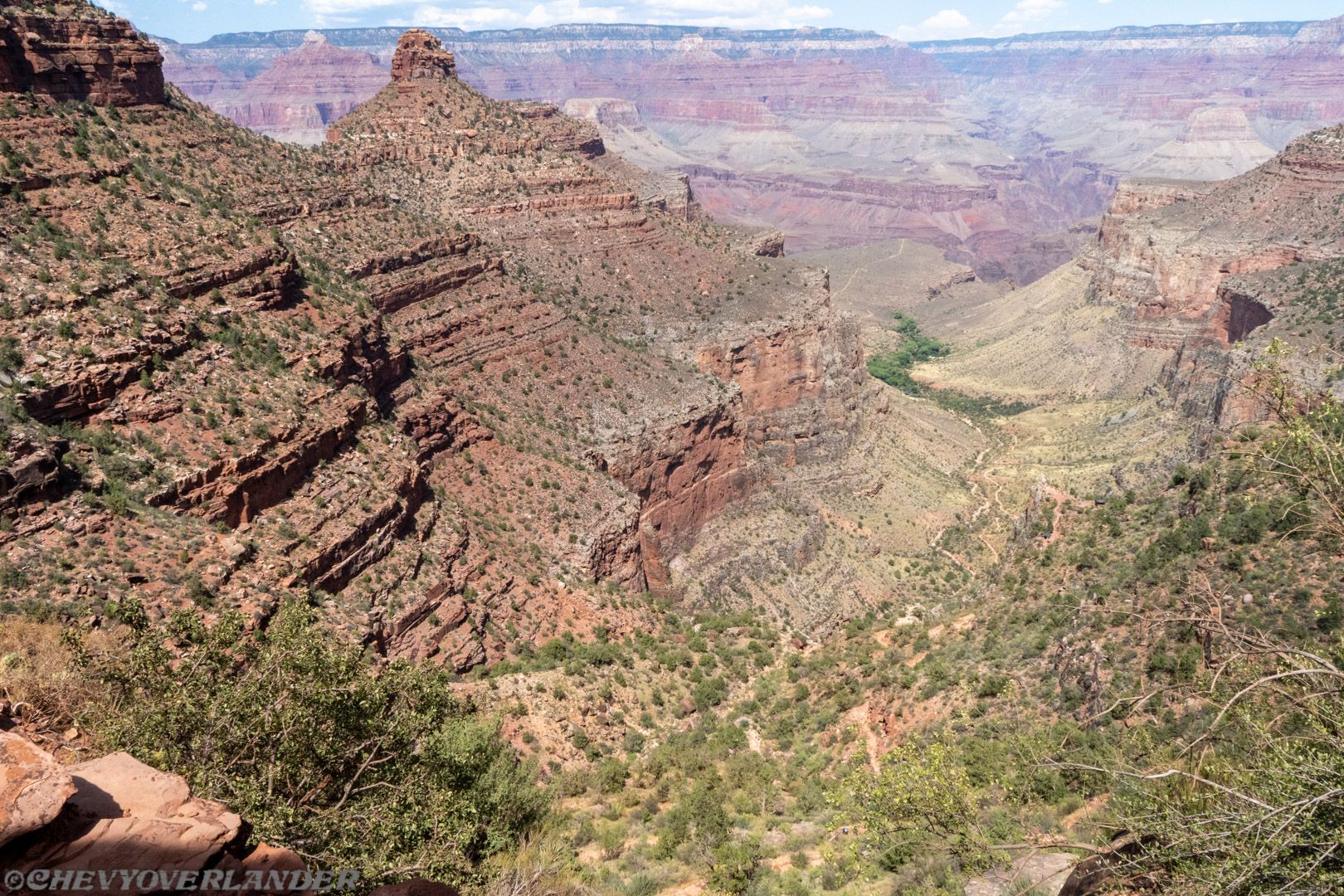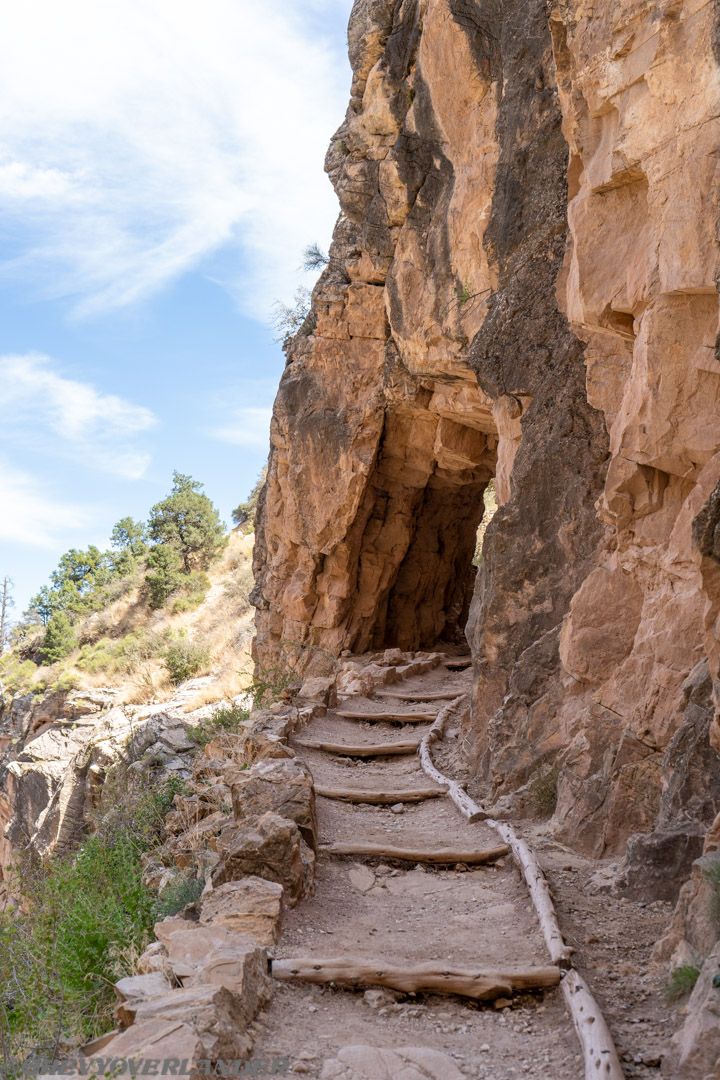 It took us around 45 minutes to an hour to hike down to the 1.5 Mile Rest House. We felt like we could hike longer, but knowing we had just taken the easy, downhill, hike here, and that the round trip time was appx 3-4 hours, we did not want to risk getting caught out unprepared.
The rest house is a small shelter built onto the side of the cliff, in the photo below you can see the signs and stairs leading up to it. Just past the rest house are the pit restrooms.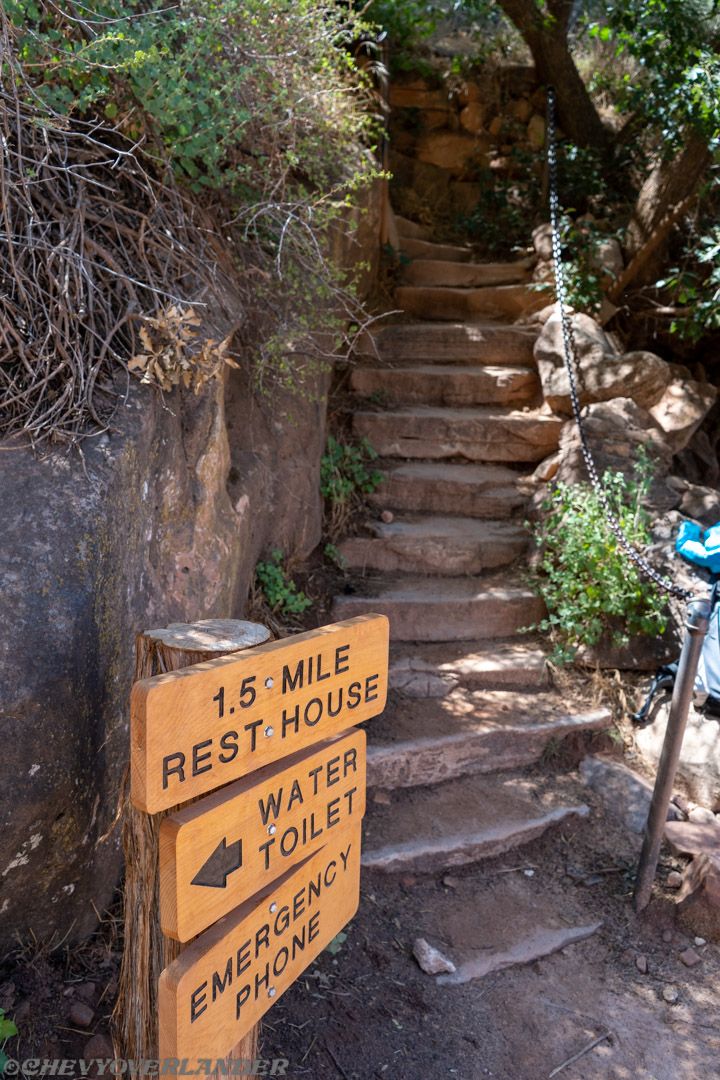 After resting for a few minutes, we decided to start our climb back out of the canyon. I wished it was as easy going up as it was down.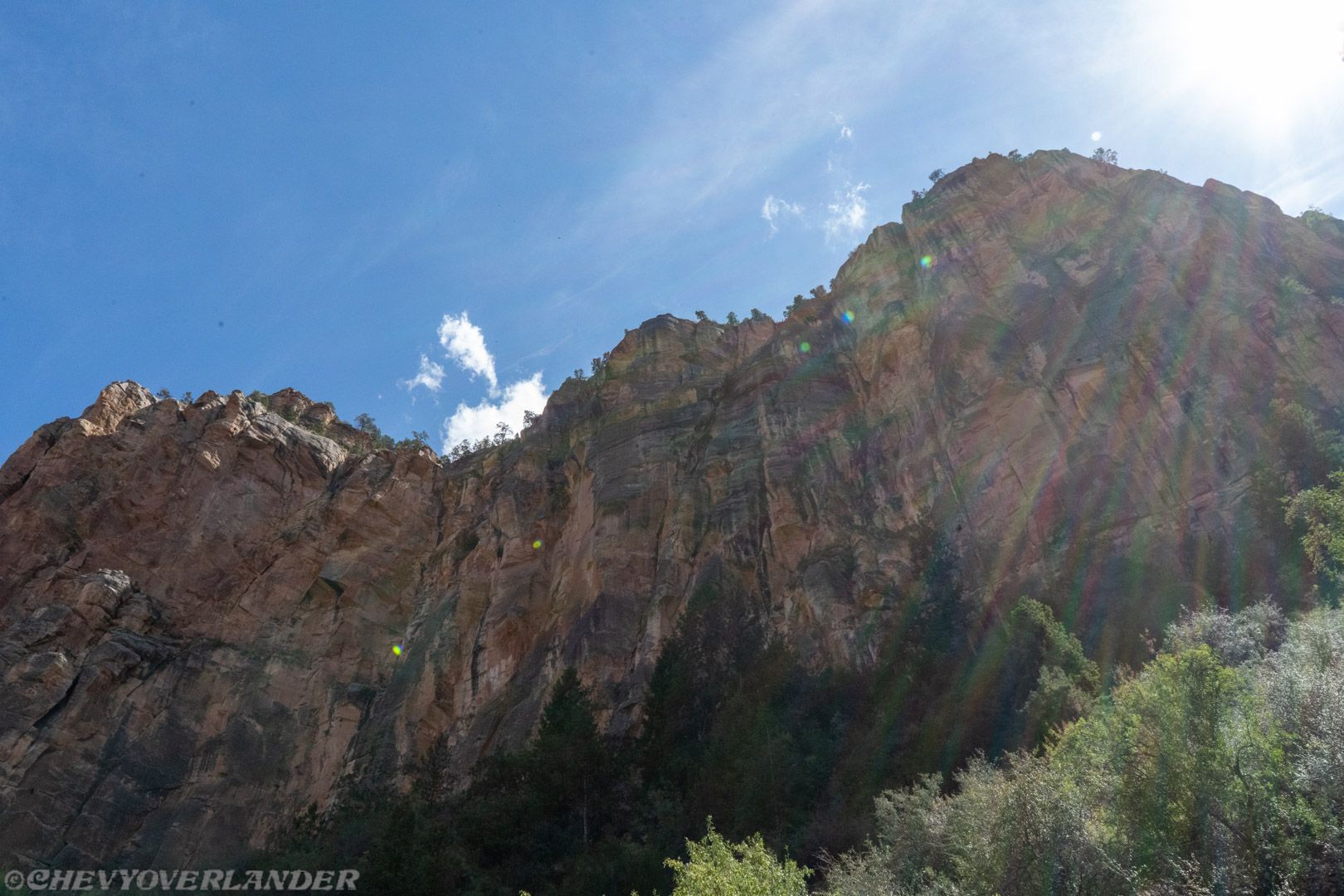 At the end of our hike back to the top, we had taken about three and a half hours total round trip. We had reached the top again at around 3:30 or 4 P.M. We had encountered a few groups going back up, one group was completing the hike since starting out at "Phantom Ranch" earlier that morning. They had stated they started from the ranch at around 4 A.M. and that this section of the hike was probably the most challenging because of the vertical elevation gains you climb.
Not to toot my own horn, I definitely felt my legs burn the entire way up. Carrying a bag full of camera gear didn't help either, but I am glad that I did.
Chris and I decided to treat ourselves to some ice cream at the shop before heading back to camp. It was a well deserved reward and a perfect way to end the hike.
---
Next in Part II
The next day, Chris and I packed up camp. Our plan was to drive to the Four Corners and then head into Colorado. About an hour into our drive we received a call from one of our friends in Colorado.
"Are you guys headed to Colorado today? We're up in the mountains, meet us here". Shortly after hanging up we received a pin drop for a location nestled in the mountains.
Part II, which is in the progress of drafting and writing, will explore the adventures throughout Colorado, giving tips, advice, routes, and locations (except for our secret camping spot).
I hope you all enjoyed reading this story of adventure and I hope that you find it helpful in some ways to start your own journey big or small, to discover the wonders of the world and all that there is to see and explore.