Introduction
At the end of August I took a month and a half off of work to travel the country. The trip typically consisted of spending 4 to 5 nights camping and a reset day in a hotel or if we where lucky a night or two at a local friends house. In the case of Denver, CO, I ended up spending about 2 weeks at a friends house. Lucky for me his wife and him are awesome people and tolerated me for that long.
---
---
CVT vs Alu-Cab - A Comparison
Now let me just say that I loved my CVT. It never really let me down, except that one time where it rained so hard all night and the tent fabric soaked in water. I don't blame the CVT for that, there's only so much a fabric can take before it absorbs water, plus I'll add that we didn't get wet. Only the bed sheets along the sides of the tent soaked in a little water.
| CVT Shasta Summit EXT | Alu-Cab |
| --- | --- |
| ❌ Can't mount items on top | ✅ Rails on top for mounting items |
| ❌ Soft travel cover | ✅ Aluminum, powder coated, hard shell |
| ❌ Long setup / Longer tear down times ~5 mins / ~10-15 mins | ✅ Super quick & easy setup and tear down takes me 2-4 mins each |
| ✅ ~ Queen Size | ✅ ~ Queen size (although I would say more of a slightly bigger twin XL) |
| ✅ 2+ people | ❕ 2 people, plus maybe a small child |
| ✅ Integrated / detachable rain fly Also extended version covers main entrance, both side windows have rain flys | ❌ Rain fly only covers rear entrance not removable |
| ✅ Integrated Ladder | ❌ Ladder must be stored either in the tent or somewhere on/in truck |
| ✅ Slide in Shoe Holders | ❌ No outside shoe holders, expected to place shoes in pockets above sleeping area |
| ✅ Integrated Power (on Summit) 2x USB ports | ✅ Integrated Power (external Anderson) 2x USB 2x 12v Sockets |
| ✅ Integrated LED Light (on Summit) | ✅ Integrated LED |
| ✅ Entrance side doors roll up | ❌ All doors/windows zip down |
| ✅ Weight: 176 lbs | ❌ Weight: 194 lbs |
| ✅ Interior Width: 56 in (1422.4 mm) | ❌ Interior Width: 51.18 in (1300 mm) |
| ✅ Interior Length: 96 in (2438.4 mm) | ❌ Interior Length: 82.67 in (2100 mm) |
| ❕ Interior Height: ?? (I estimate 48 in or so) | ✅ Interior Height: 62.90 in (1600 mm) |
| Includes: Ladder, 12v Power Cord, Rainfly, Annex Room w/ Floor | Includes: Ladder, 12v Power Cord |
| | |
| ✅ Price: $2,795 | ❌ Price: $3,999 |
As you can see there are quite a few differences between the tents. After all we are comparing a flip out soft shell RTT to a hard shell RTT.
---
Personal Decision Factors
After spending a lot of time in the CVT throughout the different environments of my travel I began to dread unpacking it and even start to hate packing it back up. The re-packing became the most tedious part of the adventure for me and at the end of the day I just was not having fun.

I'll say that the CVT is not a difficult thing to setup or tear down. However, with my gear configuration and placement it was cumbersome and taxing. I'd have to step on the side of the tire to lift myself up to the tent, carefully balance while stuffing the sides of the tent so that the travel cover would fit. I've almost fallen off the truck several times doing so, especially in cold weather. It was not a fun task to climb everywhere and pack up in 20 degree weather when your hands are cold.

It sounds like I am complaining, which you'd be right. A lot of these things are easy to overlook when purchasing a tent or dedicating a lot of time to this lifestyle. When it becomes something that you do every day, you notice the little things more and more. Pretty soon investing $4k in a hard shell tent is not far out of the question. Below is the summery of the factors that contributed to my decision to do just that.

Setup time. A decrease of 5 minutes a day for each setup and tear down, averaging 4 days, means 40 minutes saved a week. Even more when it was cold.
Load options. The loss of some Rhino Rack platform space is off set by the top rails on top of the Alu-Cab. The ability to load a configuration of Maxtrax and solar, or whatever you'd like.
Durability. I knew that the brand and the overall product was reliable, the construction is solid.
---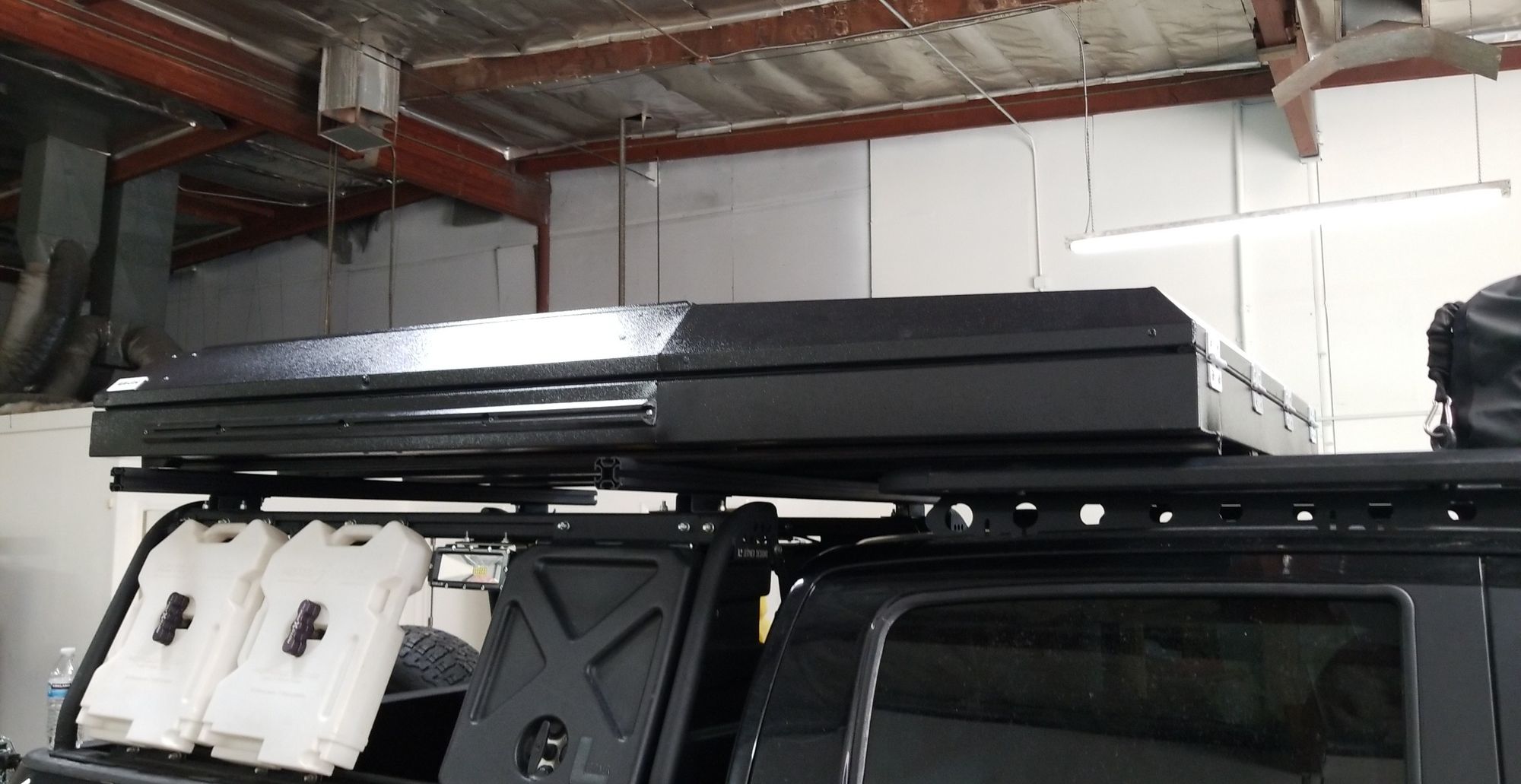 ---
Things I Dislike
After using the Alu-Cab for around 7 days of camping now, there are a few things that I severely dislike. Once again, these are all very minor things but they really make a difference in quality of life to me.

I miss the shoe bags that slid on the C channel of the CVT, which on the summit extended where also protected from rain, critters on the ground, and offered a nice place to store muddy boots.
The Alu-Cab simply doesn't have a spot for shoes, and I've been told "That's what the pockets on the top of the inside are for".... Like do you really think I'm going to bring my wet Georgia clay covered boots into my tent? AND put them somewhere over me while I sleep?
The ladder. My goodness is this thing just a hassle. It's a solidly built ladder don't get me wrong. But...
    - Put it in the tent wrong and close it? Boom now you've damaged the lip, created a compression in the aluminium, etc. Ask me how I know!
    - Even tho it comes with a bag, you still want me to put this wet ladder into my tent where my sleeping bags, pillows, sheets are?
    - It's too cumbersome to place anywhere else on the truck.
    - I ended up buying a $70 or so collapsible one off amazon and attaching the mounting bracket to it.
The power distribution box. Mine did not even work out of the box, shame on me for not checking it at the shop before I rolled out.
    - I've ended up building my own power box from a DiY box. You can also buy a similar replacement one that comes with the tent at Walmart for $9.95....
Rain, Rain, Go away. If its raining and if there is any wind at all, you've basically no choice but to only have the back window open. Not having rain fly's over the sides is an annoyance.
The power cord is a minor complaint. Since the Anderson port is located on the rear of the tent on the pax side, it's too short to reach any 12v port inside the truck. So I had a custom cable made for an Anderson to Anderson connection that will plug into my goal zero. I guess they didn't think that every vehicle has a 12v port in the back of it.
The felt pads that cover the rivets on the inside. They just peel off and get literally everywhere.
I also have a small leak where the pax side spring rod holder is. I'm assuming the rivet was not set right. This is an easy fix but an annoyance.
Sometimes I feel like I'm sleeping on concrete. The mattress is very firm.
Things I Really Like
Setup / Tear Down. Overall the ease of use is amazing. I roll in and park, lift the top of the tent up, setup the rear rain fly, set the ladder. Boom Done. This is made easier having a tailgate to stand on.
Solid aluminium construction. I mean the things a beefy tank on top of the truck.
Top rails. I absolutely love having the ability to mount items on top of the tent.  I plan for a solar setup and my Maxtrax.
Enough room while closed to store my:
1x fitted sheet
1x normal sheet ?
1x Walmart fleece blanket
1x Walmart quilt
2x sleeping bags
2x pillows
---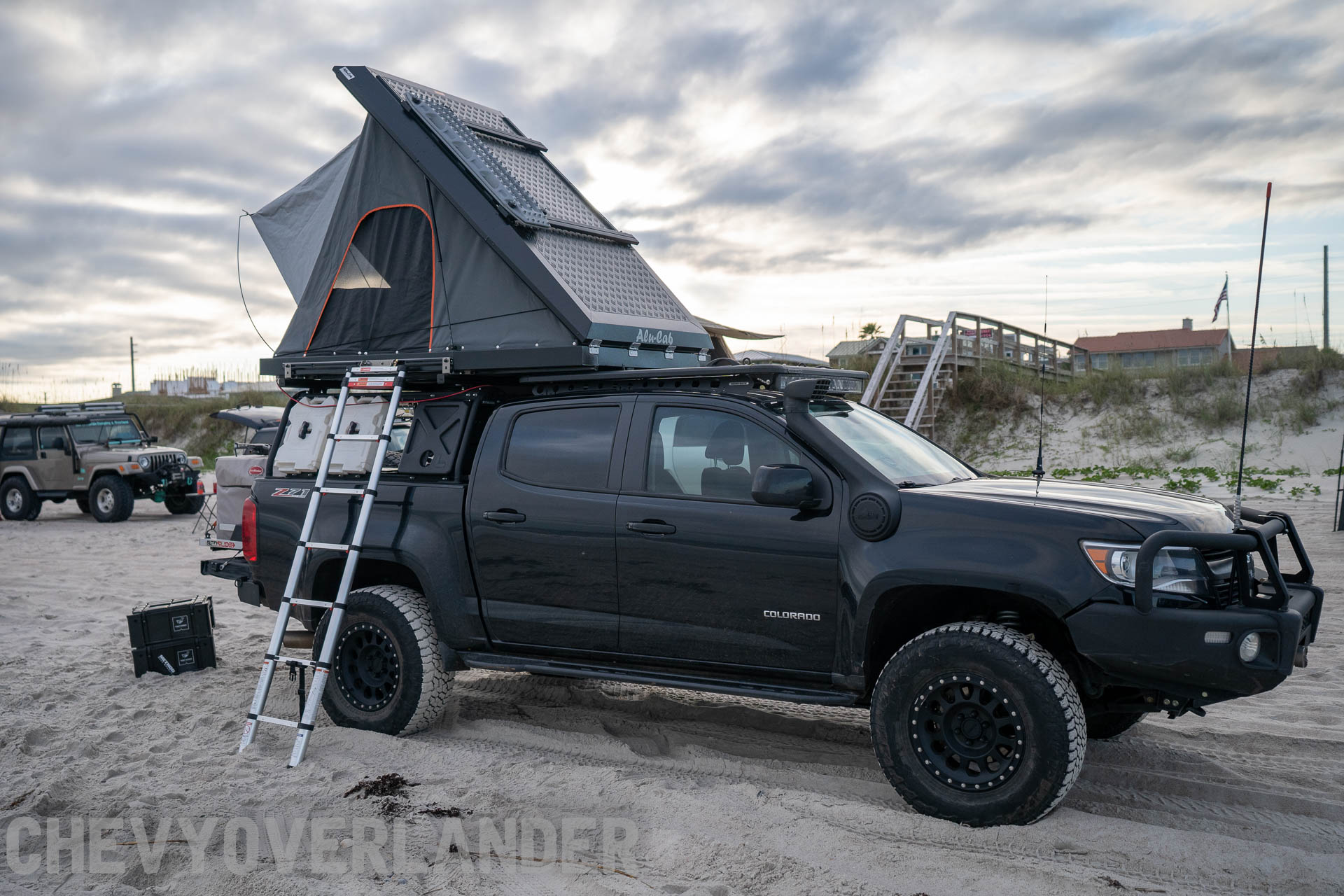 ---
It's the little things
I do really love the Alu-Cab. From the construction and beefiness of this bad boy, to the speed at which I can setup and tear down camp now. It's no longer a huge deal if I leave my wallet in the tent (Come'on, we've all done it...)

I just really think that there are some people at Alu-Cab who have never even used this tent in the wild.

I also feel like for $4,000, I shouldn't have to fix the 12v sockets / USB inside the tent, seal rivets that have water leaks, not have a complete rain fly, etc. All within the first month or two of ownership.

Also, yes I'm aware that Alu-Cab sells the rain fly for the sides, and no, I'm not willing to be nickled and dimed for items that should be a part of the tent in the first place.

As compared to my old CVT, I do miss some of the things mentioned above, my CVT held up. I just got tired of how the setup and tear down was on MY setup, and to me the benefits of the hard shell, quality of life, and overall experience outweigh the reduced price of it.